You may think that daily brushing and flossing is enough to protect your oral health, but routine checkups and comprehensive dental insurance is key to maintaining a healthy smile and lifestyle. While it can help cover a percentage of the costs for any dental treatments you may need, its biggest benefit is prevention.
Those who take full advantage of their dental benefits greatly reduce the risk of oral issues and expensive procedures later.
Not only does this benefit your smile, but research continues to prove a connection between oral and overall well-being. Maintaining good oral health has been shown to reduce the risk or lower the severity of everything from diabetes to glaucoma to heart disease.
But what if you're a self-employed or freelance worker and don't get dental benefits through an employer? Fear not. There are still plenty of affordable dental insurance plans for self-employed individuals and even their families. With a little bit of research, you'll be on your way to a happy and healthy smile for life.
Need coverage? With 5 unique plans to choose from, our Individual + Family plans have something for everyone! Get started today.
Get Your Quote
What's the Best Dental Insurance for Self-Employed Individuals?
Unfortunately, there's no "best" dental insurance for self-employed people. What you or your family might need could be very different from someone else. However, we do have a few tips to help you determine a plan that suits your needs.
When comparing standalone dental insurance plansfor self-employed workers, the first two things to think about are how many people need coverage and what treatments they may need in the upcoming year.
If you or your family expect to only undergo preventive cleanings or the occasional filling, then a basic plan could be just fine. That said, if you anticipate needing more costly or complicated procedures, then a higher-coverage plan could save you money in the end.
Once you've decided on the level of benefits you need, you can begin comparing the other factors of those plans. To help you make an informed decision, our Dental Insurance 101 guides offer information on everything you need to know about dental networks, premiums, deductibles, waiting periods, and more.
How Much Does Self-Employed Dental Insurance Cost?
Yet again, there's no cut-and-dried answer. The cost of dental insurance for self-employed individuals can vary widely depending on factors such as your age, location, and provider. More importantly, there's the number of people on your plan and the level of coverage you choose, which will impact your monthly premiums, deductible, coinsurance, copays, and annual maximum.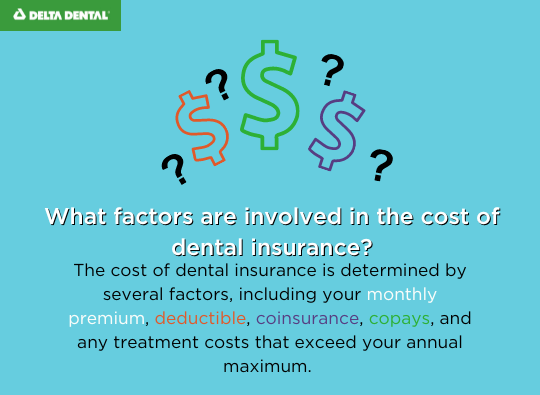 While there's no set number for how much dental insurance costs, we can help you better understand the difference between these variables and how they come together to determine what you'll pay overall.
Is Dental Insurance Deductible for Self-Employed People?
When it comes to dental insurance for self-employed individuals, there may seem like a lot of numbers to keep straight and costs to consider. Thankfully, a benefit of buying dental insurance as a self-employed person is that you may be able to deduct it off your taxes.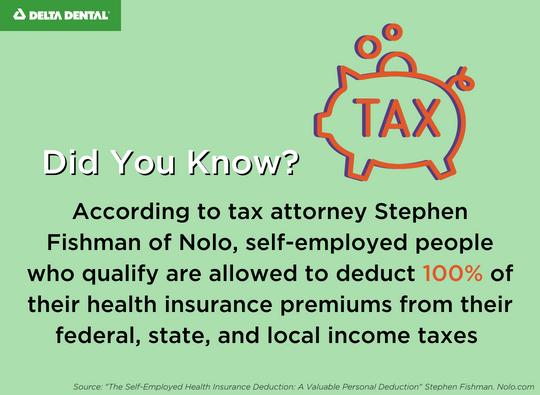 Keep in mind, however, that this is a special personal tax deduction for people who are self-employed, not a business deduction. As Fishman goes on to explain, "the deduction applies only to your federal, state, and local income taxes, not to your self-employment taxes."
Have no other dental coverage. You cannot deduct dental insurance from your taxes if you're eligible to participate in another plan, such as through your spouse's employer.


Have net income from a single business that's greater than the amount of the deduction.
Need coverage? With 5 unique plans to choose from, our Individual & Family plans have something for everyone! Get started today.
Get Your Quote