If you're considering dental insurance, you probably have a question or two about how to go about getting it. The truth is, there's more than one way to get access to dental benefits, but the way you do it depends entirely on your situation.
Learn about the three main ways to get dental insurance, factors to consider when comparing plans, and how to make the most of your dental benefits once you have them.
Need Dental Insurance Right Now?
We offer 5 dental plans with different coverage and monthly premiums.
3 Ways to Get Dental Insurance
There are three primary ways people get dental insurance: through a group plan, through a private individual or family plan, or through the Health Benefit Exchange.
Get dental insurance through a group plan.
Coverage through a group plan is one of the most common ways people get dental insurance. Group dental plans are typically provided by an employer as part of a benefits package. Someone at your company can walk you through your options and enroll you in a dental plan that best suits your needs. In many cases, these plans may come at low or even no cost to you. You might even be able to add a spouse or children to your plan for a very reasonable fee. Any monthly premiums you pay are usually taken out of your paycheck, making it simple and easy for you to budget.

If your employer doesn't offer dental benefits or you're self-employed, check with any trade organizations or other associations you may belong to. Sometimes these groups offer discounted rates to their members.
Get dental insurance through an individual or family plan.
If you're self-employed, don't get benefits through work, or are looking to get dental insurance without a job, you can opt for a standalone individual or family plan. Delta Dental offers five individual and family plans, with a wide range of options for coverage, premiums, deductibles, coinsurance, and copays.
Get dental insurance through the Health Benefit Exchange.
If you're on a budget and qualify, Delta Dental of Washington also offers two Affordable Care Act-qualified dental plans through the state's Health Benefit Exchange — one plan for families and one specifically designed for kids. And unless you're 65 or older and qualify for Medicare, you will need to purchase a dental plan in conjunction with ACA-approved health insurance through the Exchange.
Can You Get Dental Insurance at Any Time?
When you can get dental insurance typically depends on how and where you get dental insurance.
If you're purchasing a private individual or family plan, you can enroll at any time. If you're getting benefits through a group plan with your employer, you can also typically enroll as soon as your employment has started. With each option, however, there may be waiting periods between when you enroll and when you can actually begin to use your benefits.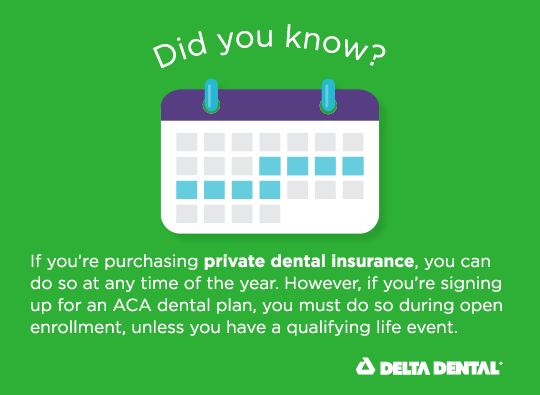 If you're buying an ACA dental plan through the Exchange, you typically must do so during open enrollment. Exact dates vary each year (check Healthcare.gov for the latest information), but they generally run from the beginning of November through the middle of January.
If you miss open enrollment, you may still qualify for special enrollment if you meet certain criteria. You must be able to verify an approved life change (such as losing your insurance, getting married, or having a child) and apply for coverage within 60 days of that event.
What to Know and Consider When Choosing Dental Insurance
The first thing to consider when shopping for a dental benefits plan is what treatments you might need in the future. If you only anticipate needing preventive care or the occasional filling, then one of the most basic plans might suit you just fine. But if you expect to need more complicated procedures, a higher-coverage plan might save you money in the end.
You'll also want to consider if you need to provide coverage for a partner or kids. Once you've decided the level of benefits you need, you can begin comparing the other factors of those plans. To help you make an informed decision about your health and financial future, our 101 guides break down what you need to know about:
How to Get the Most Out of Your Dental Insurance
The best way to get the most out of your dental insurance is to use it! Unlike most other types of insurance, which are primarily designed to protect you in the event of an accident or tragedy, dental insurance aims to prevent these things from happening at all.
Dental benefits are designed to encourage preventive care in order to reduce the risk of costly treatments later. By staying up on your twice-yearly exams and cleanings (which come at no additional cost with most Delta Dental plans), you and your dentist can address problems before more complicated and expensive procedures are needed, thereby saving you time and money in the long run.
As always, be sure to follow proper at-home care and speak with your dentist if you have any questions or concerns.
Looking for dental benefits? We offer a variety of plans for individuals and families with different coverage options and monthly premiums to fit your needs.