If you spend a few minutes researching dental insurance options, "dental network" is one of the first terms you come across. Dental networks are an important part of dental insurance, because they keep costs low for you, your dependents, and your employer.
But what exactly is a dental network, and why does it matter to you?
Looking for an in-network dentist? Explore individual and family plans to get started.
Understanding Dental Networks
A dental network is a group of dentists under contract with your dental insurance carrier. These dentists agree to provide dental care at a set fee. A dentist who contracts with your insurance carrier is said to be participating, or in-network. The difference in fees between in and out-of-network dentists is often referred to as a "discount" or "network savings".
For a dentist, joining an insurance company's dental network is an important way to get and keep patients. Have you ever moved to a new town and tried finding a dentist near you by first searching through your dental insurance carrier's list of in-network providers?
For example, Delta Dental of Washington has a couple different networks, or groups, that dentists join. Dentists in the Delta Dental PPO Network often have agreed to accept greater network savings than dentists in the Delta Dental Premier® Network.
Can I see a dentist outside of my dental network?
You can usually see any dentist outside your dental network, but you may miss out on significant network savings. This all depends upon the plan you have. Some dental insurance carriers offer lower benefit reimbursement levels if you see an "out-of-network" dentist. Some plans won't reimburse for any treatment provided by a "non-participating" or "out-of-network" dentist.
For example, dentists who choose to not join one of Delta Dental's networks are called "non-participating" dentists. With many Delta Dental plans, you can see non-participating dentists for care, however, your out-of-pocket costs may be substantially higher than an in-network dentist with a Delta Dental PPO or Delta Dental Premier Dentist.
Check out the following infographic for an example on how much you can save using an in-network dentist with one of Delta Dental's plans.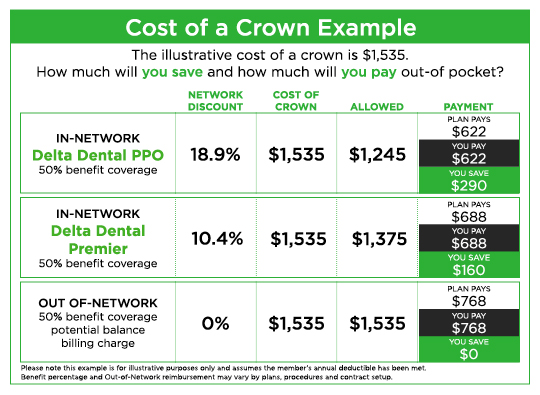 Finding a Dentist in Your Dental Network
Most dental insurance carriers have lists of in-network dentists in your area. If you don't know where to start, this is a great first step for finding a local dentist in your dental network.
Delta Dental of Washington has a robust Find a Dentist tool available online. Using this tool, you can filter dentists by location, gender, languages spoken by the dentist and even attributes, like dentist endorsements and certifications. It's a great way to quickly find a dentist who meets your needs.
Delta Dental helps take it a step further in quality and credentials by updating its best practice guidelines every year. This ensures that our in-network dentists follow the most effective, up-to-date treatments and procedures.
Looking for an in-network dentist? Explore individual and family plans to find what works best for you.