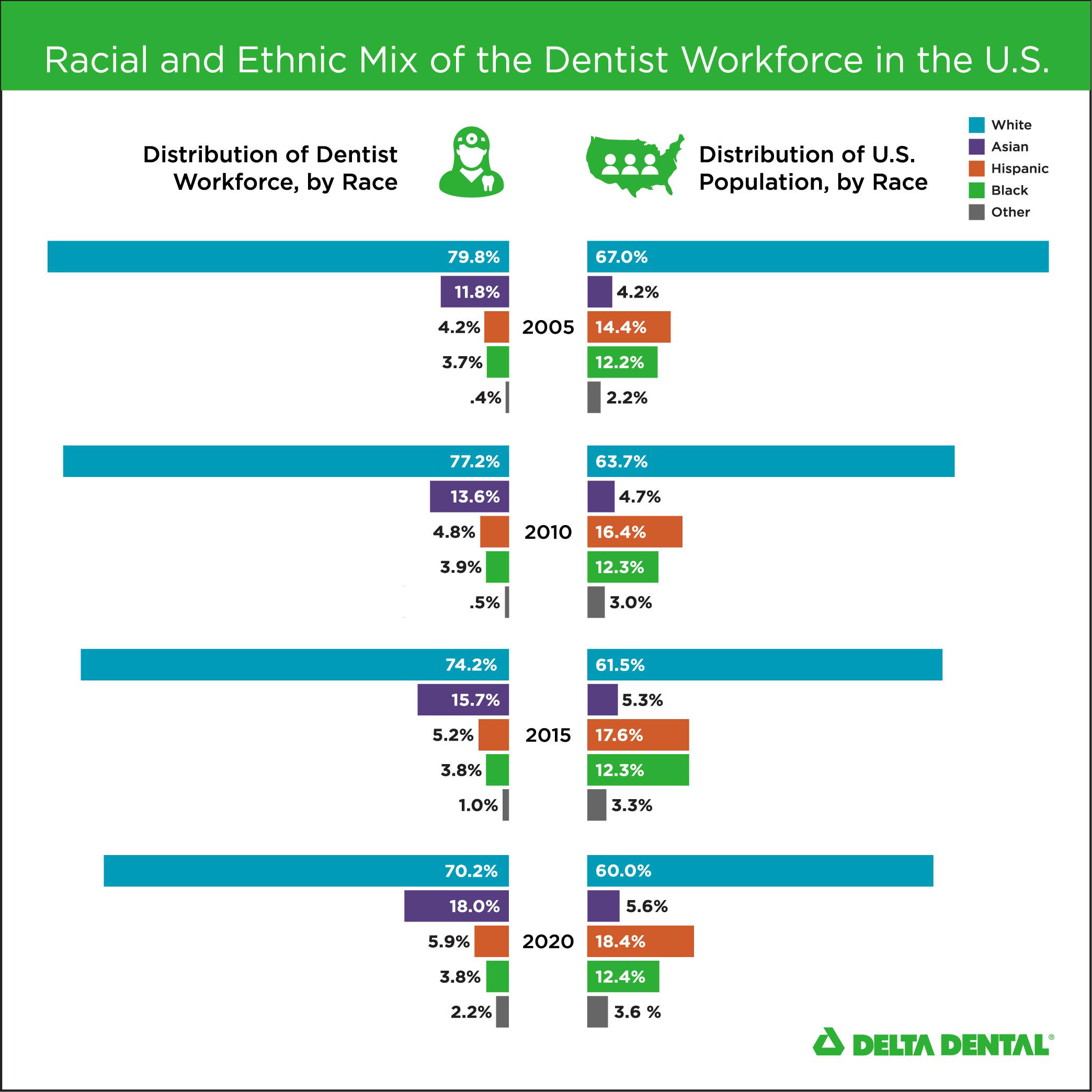 ADA Health Policy Institute
When you work with the largest network of high-quality dentists in the state, you notice some things.
We've noticed that dentists in the Delta Dental network are amazing! They work every day to ensure their patients have the healthiest smiles possible. We want to make sure the entire population of Washington gets the benefit of high quality oral health care. Research shows that patients fare best with diverse healthcare teams.

While the racial and ethnic diversity of dentists has increased over the last decade, the percentages Black and Indigenous dentists have remained low and the increase in Hispanic or Latinx dentists has not kept up with population growth.1
Other dimensions of diversity are important too – some lesbian, gay, bi-sexual and transgender patients also seek dentists who reflect their community. One current success story? In 2019, the percentage of U.S. female dental graduates hit 50%.2

Our vision is that all people can enjoy good oral health, with no one left behind. But in this equation, several communities are being left behind when it comes to being able to choose a dentist from their own background.

So what can we – a dental benefits provider – do about this? We're traveling the state, speaking to young people, especially those from historically underrepresented groups, about the benefits of pursuing a career in the Dental Professions.
We show them what dental professionals do, how science and math classes can translate into a satisfying career and what kinds of job are available. We let them experiment with dental materials and experience the art of dentistry. We point them toward resources to explore where and how they might start their dental career. And we encourage them that they CAN be the change in the dental industry that it needs.

Read more about the events we've supported over the past.
1ADA.org/HPI: Racial and Ethnic Mix of the Dentist Workforce in the U.S.