Originally publish August 2019. Updated May 2022.
There's plenty to think about when you're pregnant, especially as a first-time parent. After all, you're suddenly responsible not just for yourself, but for the proper growth and safety of another little being.

When it comes to your dental care and the health of your baby, experts agree that you can ease your mind about one subject – it is safe to get dental x-rays while pregnant, even in early pregnancy.
Need coverage for yourself and your little ones? With 6 unique coverage levels to choose from, our Individual & Family plans have something for everyone!
Get Your Quote
Are Dental X-Rays Safe While Pregnant?
The FDA, the American College of Obstetricians and Gynecologists (ACOG), and the American College of Radiology (ACR) are all in agreement on the safety of dental x-rays during pregnancy.
In 2017, they released a joint publication which said that x-rays performed on the teeth and mouth do not expose reproductive organs to direct radiation. Therefore, getting a dental X-ray during pregnancy is entirely safe when performed with the appropriate shields to protect those organs. Even dental x-rays while pregnant during your first trimester "do not involve any risk to the unborn child."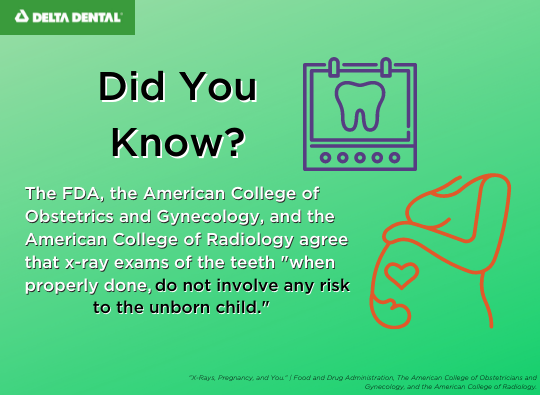 That said, if you're like many new parents, you still want all of the information before making a decision, and we completely understand. Here's what science says about getting dental X-rays during pregnancy as well as when you're breastfeeding.
What Are Dental X-Rays?
To help you make a fully informed decision about getting dental X-rays while pregnant, let's stop for a quick minute to first understand what diagnostic X-rays are and how they work.
An x-ray is a type of electromagnetic radiation that passes through most objects, including your body. When X-rays travel through any part of your body to an X-ray detector on the other side, an image appears showing the "shadows" formed by the objects inside.
Bones and teeth are dense, so they produce a high contrast and show up white on the X-ray film or digital image. Any holes, like breaks in your bone or cavities in your teeth, show up in shades of gray. An x ray can also help spot dental issues like tooth decay and gum disease which may require further procedures.
Side Effects of Dental X-Rays During Pregnancy
Dental x-rays during pregnancy produce no known side effects to either the mother or the unborn child, even dental x-rays in early pregnancy.
The concern over x-rays and their potential risk to a fetus comes from the radiation. While it's true that a very high amount of radiation exposure carries risks - including miscarriage and birth defects - these high levels only occur during aggressive treatments, such as radiation for cancer..
What Science Says About Radiation Exposure While Pregnant
ACOG scientists have a large amount of information about radiation exposure during pregnancy because they studied women and children affected by the atom bombs dropped on Hiroshima and Nagasaki. Their conclusion: You need a very high dose of X-ray radiation during pregnancy to cause any harm to your baby. Dental x-rays come nowhere near this dose.
As board-certified radiologist Adam Evearitt reported in the Journal of the Colorado Dental Association, two dental X-ray films generally expose you to a radiation dose of 0.002. And as ACOG reported, "fetal risk of abnormalities, growth restriction, or [miscarriage] have not been reported with radiation exposure of less than 50."
Simply put, you would need 25,000 times the amount of radiation from dental X-rays to cause any harm to your baby, and in most cases even more.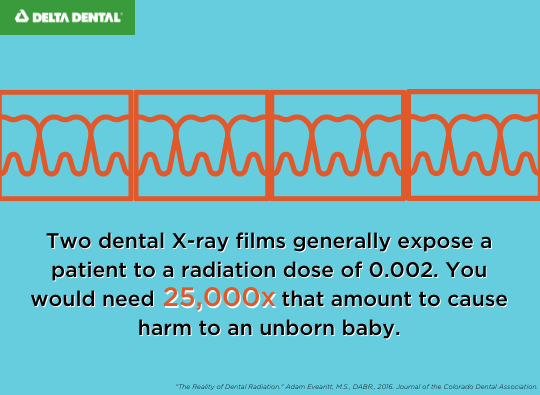 In addition, the tiny dose of radiation you get from a dental X-ray while pregnant is very concentrated and pointed at your mouth, so the baby will not be exposed at all to the x-ray.
"Dental radiation has always been considered safer than other forms of medical radiation because it is directed to areas of the body that just aren't radiosensitive," Evearitt explains.
Are Dental X-Rays Safe While Breastfeeding?
Even after delivery, many new moms worry about exposing their babies to harmful chemicals passed through their milk during breastfeeding. But just like it's safe to get dental x-rays while pregnant, x-rays are safe for breastfeeding mothers and babies alike.
Writing for Baby Center , pediatrician Natasha Burgert assures mothers about the safety of dental X-rays, and even chest X-rays, during breastfeeding. According to Dr. Burgert, the radiation in an X-ray does not remain in breast milk beyond the time of the scan and so it won't expose your baby.
Talk to Your Dentist About Dental X-Rays While Pregnant
You should always let your dentist know if you are pregnant, breastfeeding, or suspect you might be pregnant. If you are or have any concerns, your dentist will recommend wearing a lead apron to block any scattered radiation from your reproductive organs.
In fact, this is true whether you're pregnant or not, or for that matter, whether you're a man or a woman. The International Atomic Energy Agency says lead aprons reduce exposure to x-ray radiation by over 90%
The American Dental Association also recommends that children, pregnant women, and women of childbearing age use a leaded thyroid collar during dental X-rays to further protect themselves.
Oral care during pregnancy is a crucial part of your overall preventive care routine. Be sure to speak to your dentist about getting dental x-rays while pregnant and schedule it as part of your regular preventive visit.
Need coverage for yourself and your little ones? With 6 unique coverage levels to choose from, our Individual & Family plans have something for everyone!
Get Your Quote