Healthy Behaviors Can Make the Difference
The Health Policy Institute estimates that if these emergency visits were replaced with regular preventive oral care, there would be a savings of nearly $1.7 million dollars per year, enough to put towards medicaid, dental premiums, and other treatment needs.
Our plans make preventive care a priority
This is why we encourage our members to use their dental benefits, particularly preventive care which can avoid these kinds of costly visits.
Preventive care keeps members out of the emergency room
This growing statistic illustrates a much bigger problem - more and more people are putting off their preventive care visits. It's an expensive problem that impacts individuals, hospitals, dentists -- and employers alike.
Individuals who put off preventive care until the last minute are often the ones who end up in the emergency room at the end of the day. But unless their assessed level of dental pain meets a certain triage threshold, emergency room staff will simply divert them to their dentist on their own time.
The key takeaway? Of the large amount of patients who visit emergency rooms for dental care, only around 20 percent are actually given dental care on site.1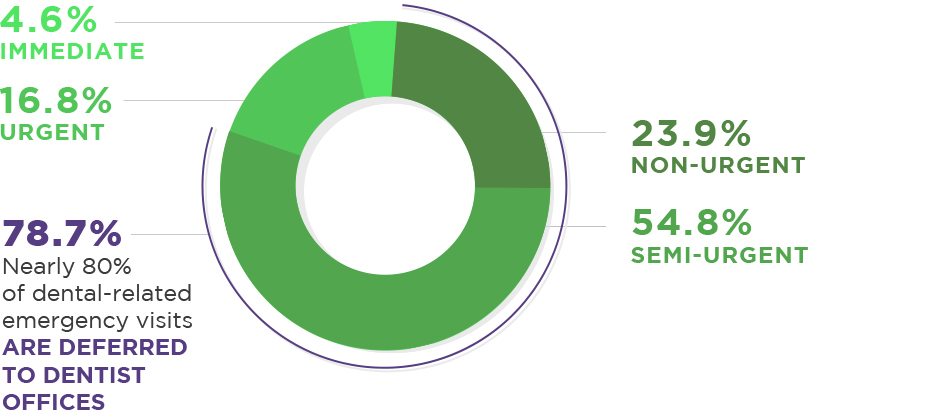 It's a situation that puts employees in a bad spot because after an emergency dental visit to the emergency room, they're still in pain and will likely have to take time away from their jobs to get their dental situation taken care of.

Source
1 Health Policy Institute Research Brief, 2014