We want to make you smile, even when reviewing documents like your Explanation of Benefits (EOB). And while it may not be the most exciting piece of paper you'll receive, we want to be sure they're as easy to understand as possible.

So, to help, we've created this handy Step-by-Step Guide:
---
Step 1: Open your EOB
It's important to review it to make sure that all information is correct and that there are no surprises.

There are 2 ways to receive an EOB:
1.

Electronically: After your dental visit,

log into your MySmile®

and click "My Dental Activity" to review you EOB. If you haven't already, you can sign up for paperless statements, so you always receive your EOB electronically.

2.

By Mail: If you don't have a MySmile® account, you'll receive paper copy in the mail.
---
Step 2: Review your treatment and the financial statements
Your EOB will tell you how much of your benefits were applied toward your treatment and how much you have left.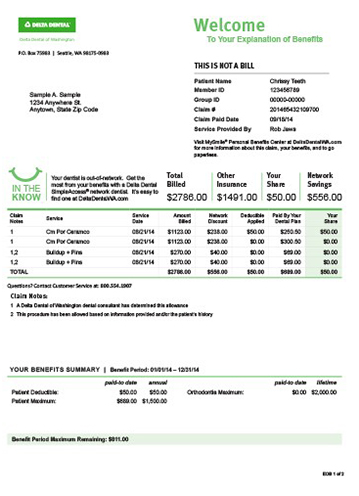 A few things to look out for:

That the treatment you were billed for matches the one you received.

Amount Billed: The total amount billed for the procedure

Deductible Applied: The amount of your deductible that went to pay for the total billed.

Paid by Your Dental Plan: The amount we covered.

Your Share: The remaining left that you are responsible for paying out-of-pocket.
It's important to keep track of your benefits for a few reasons:


• In case you need more treatment in the future;
• To plan appointments with your dentist's office;
• To ensure you don't exceed your coverage maximums for the year;
---
Step 3: Save Your EOBs
Use them for your taxes or to document qualified expenses for your HSA, FSA, and HRA.
---
Step 4: View your EOBs and more online
If you haven't already, create a MySmile® account at DeltaDentalWa.com. Here, you can review your EOB history, print ID card, get out-of-pocket cost estimates, and more. This will also make your information available on your PC or mobile devices.