There are so many healthy foods that have been proven to be good for your teeth. For example, avocados are known to be high in folic acid and can help strengthen the integrity of your teeth. Cauliflower is also a tooth friendly food option, as its crunchy and squeaky texture can help get rid of hard to remove plaque. But eating food just to please your teeth can result in meals that are healthy, but also are bland.
To get the best of both worlds, sometimes your food needs a little TLC. To help you do just that, we've teamed up with Tom Douglas and his chefs to bring you recipes that will please your teeth and your taste buds.
Grilled Salmon with Fennel Salt and Nectarine-Basil Relish
Pro Tip: Pair with a white, dry wine such as Sauvignon Blanc or unoaked Chardonnay
Makes 4 servings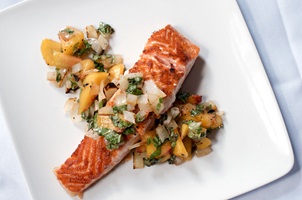 Note: to make the fennel salt, combine equal parts of crushed fennel seeds and flake sea salt. You can crush the fennel seeds using a mortar and pestle, or you can use a small heavy pot, moving the bottom edge of the pot back and forth over the seeds to crush them. If you have made extra fennel salt, store it in a lidded jar and use it the next time you grill salmon, chicken, or pork.
For the nectarine relish:
3 medium nectarines, pitted and thinly sliced
1/3 cup thinly sliced basil
1 tablespoon honey
1 tablespoon fresh lemon juice
1 tablespoon extra-virgin olive oil
Kosher salt and freshly ground black pepper
Olive oil for brushing
3 to 4 teaspoons of fennel salt (see note)
4 six-ounce salmon fillets, skin off, preferably wild salmon
4 lemon wedges
Make the nectarine relish shortly before you grill the salmon. In a bowl combine the nectarines, basil, honey, lemon juice, and oil. Season to taste with salt and pepper. Serve at room temperature. Meanwhile, fire up the charcoal grill for medium-hot direct heat. Lightly brush the salmon on both sides with olive oil. Season the salmon on both sides with the fennel salt (see note). Place the salmon fillets on a plate and set aside.
When the grill is hot, grill the salmon, with the grill cover on and the vents open. When the salmon is marked by the grill on the first side, use a spatula to flip to the other side and cook until done to your liking. During this time, keep an eye on the salmon to make sure it doesn't burn, moving it to a cooler part of the grill if necessary. The time it will take to cook the fish will vary depending on the heat of the grill and the thickness of the fillets, about 10 minutes total grilling time.
When the salmon is cooked, remove it from the grill and place on plates. Garnish each piece of salmon with some of the nectarine relish and a lemon wedge. Serve.
Wok Fried Mussels with Sake Ginger Butter
Pro Tip: Pair with a dry Riesling or crisp dry white like a Pinot Grigio
Serves 2-4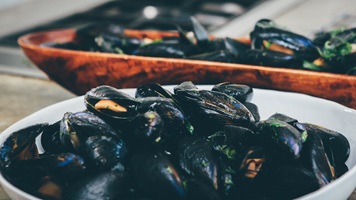 2 pounds of mussels
½ cup sake
¼ cup julienned ginger (peel ginger and cut into very thin shreds)
2 red chile pods (such as dry arbol)
½ cup julienned green onions
6 tablespoons unsalted butter
1 teaspoon fresh lime juice
Kosher salt and freshly ground black pepper
Scrub and de-beard the mussels. Heat a wok or sauté pan on high heat and preheat the oven to 200º F. Add the mussels, sake, ginger, and chilies to the hot wok. Cover with a lid and cook over high heat until the mussels are open, 3 to 4 minutes. Toss in the green onions.
Remove the mussels, from the wok and place them in the oven (to keep them warm while you finish the sauce), leaving the liquid in the wok on high heat. Add the butter and lime juice to the liquid and season to taste with salt and pepper (be cautious with the salt since mussels may be salty.) Continue to cook the sauce, shaking or stirring to melt the butter into the sauce, about 1 to 2 minutes.
Divide the mussels among 4 wide shallow bowls (or 2 large bowls for a dinner portion), pour the sauce over, and garnish with lime wedges. Serve.
Roasted Cauliflower and Shiitake Mushrooms with Fresh Thyme
Pro Tip: Pair with Rhône white wine or a blend of Roussanne and Marsanne
Makes 4 Servings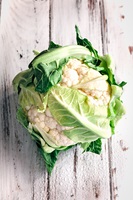 1 medium head cauliflower (1½ pounds), cored and cut into 2-inch florets
½ pound shiitake mushrooms, stems trimmed, caps cut in half if large
3 tablespoons olive oil
Kosher salt and freshly ground black pepper
1½ teaspoons chopped fresh thyme
Preheat the oven to 450°F.
Combine the cauliflower and mushrooms in a bowl, drizzle with the oil, season to taste with salt and pepper, and toss to combine. Spread the vegetables on a rimmed baking sheet and roast in the oven, stirring every 10 minutes, until the cauliflower and mushrooms are browned and tender, about 30 minutes total cooking time. Remove from the oven, toss the vegetables with the thyme, and serve.
Ruby Chard with Garlic, Chili, and Lemon
Pro Tip: Pair with a light red such as a Gamay Noir or Pinot Noir
Makes 4 Servings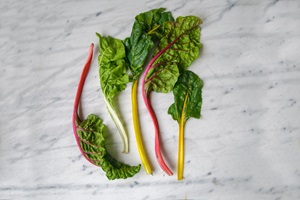 3 bunches ruby or other chard (about 2 pounds, or 12 cups loosely packed cleaned leaves)
¼ cup olive oil
¼ teaspoon red pepper flakes
2 teaspoons minced garlic
Kosher salt and freshly ground black pepper
4 lemon wedges
Stem and wash the chard. Heat a large sauté pan with the oil and red chili flakes over medium-high heat. Add the chard and garlic. Wilt the leaves over medium-high heat, stirring occasionally, about 3 to 5 minutes. When the leaves are wilted, season to taste with salt and pepper and squeeze the lemon wedges into the pan. Throw the squeezed wedges into the pan. Divide the chard between 4 plates and serve immediately.
For more information on Tom Douglas and his recipes, head over to the official Tom Douglas site.