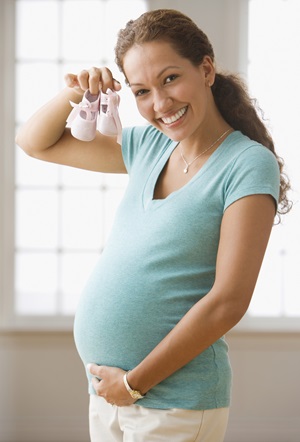 A Healthy Pregnancy Includes Oral Health Care
Oral health care during pregnancy is critical for both mother and baby. Experts agree a healthy pregnancy includes good oral health.


The best way to prevent cavities is to start early, before babies are born.
It's important to go to the dentist during pregnancy. Do you know?
During pregnancy, a bad tooth or gum infection can create serious health problems for mom, and potentially baby too.

After delivery, moms with tooth decay can pass cavity-causing bacteria to their babies and toddlers by sharing utensils, and cleaning pacifiers in their mouths. If moms have untreated tooth decay it greatly increases the possibility that their babies will get cavities.

Tooth decay is easily preventable and babies with good oral health are more likely to enjoy a lifetime of better oral health. Cavities in baby teeth can spread to adult teeth.
Oral health needs to be part of prenatal care for all pregnant women. That's why we:
Train and motivate more dental professionals to provide preventive care and treatment for pregnant women. We have already trained more than 950 dentists, dental assistants and hygienists to deliver care to pregnant women.

Raise awareness about the importance of dental care during pregnancy, so pregnant women talk to their medical provider about their oral health, seek dental care, and take care of their mouths at home by brushing, flossing and eating healthy snacks.

Train obstetricians, midwives, and other prenatal providers to screen for problems, educate patients and refer them to a dentist for care so that all pregnant women have healthy mouths before giving birth.
Prenatal dental care puts moms and babies on the path to better oral health for the rest of their lives.
Order free educational materials for pregnant women here.