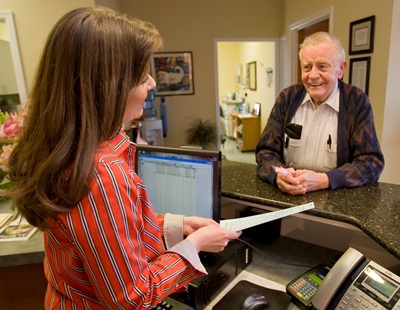 Good oral health is key to healthy aging
We all strive for good health in our golden years. Yet as we age, our risk for oral disease increases. Gum disease is an infection in the mouth which is linked to other serious health problems including diabetes, heart disease, and stroke. Some of the most common medicines and treatments that older adults need to stay healthy cause dry mouth, which can quickly lead to tooth decay and tooth loss.
Too many older adults have difficulty eating the foods they need for good health, some isolate themselves because they are embarrassed, and sadly some even say, "I don't ever smile anymore." Change is needed to ensure good oral health for a lifetime.
Medicare doesn't cover dental care
Good oral health and preventing oral disease are especially critical because every day 10,000 baby boomers turn 65 and basic Medicare doesn't include dental care. Even if you're not yet 65, it's vital to:
prevent infections by taking care of your mouth,

get regular checkups to catch problems early

think about how you will pay for dental care as you age.
Preventing oral disease and expanding dental care for older adults must be a priority
That's why we:
Invest in nonprofit dental clinics – more than $1.5 million so far – to help seniors get the affordable care they need.

Partner with AARP, Area Agencies on Aging, medical clinics and others to share tips and tools so that more people keep their teeth longer, enjoy nutritious foods, and have a healthy smile.

Train paid caregivers to help their clients care for their teeth and gums. Nearly 30,000 have been trained so far.

Train dentists to build their skills and better serve older patients.

Highlight the importance of good oral health for patients with dry mouth or diabetes.
Learn more about oral health for older adults at SeniorsOralHealth.org.
Order free educational materials here.