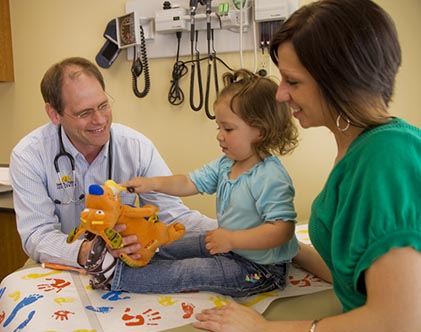 All health professionals should pay attention to oral health
Think back to your last doctor's visit or annual checkup. Did your doctor ask about your oral health? Did she look into your mouth? Oral health is essential to overall health and it's time to "put the mouth back into the body" by treating the whole person. Oral health is rarely addressed in primary care and that's a big reason why oral health is one of the top unmet health needs in the country.
Oral health preventive care should be part of "whole person" care delivered in primary medical care settings. That's why we:
Train physicians, nurses and other medical providers to screen for oral disease—especially to catch disease early and refer patients to dental care. They are prevention experts, but typically receive little training on how to prevent oral disease.

Train Washington's family physicians and pediatricians to do oral health screenings (including educating parents, applying fluoride varnish and referring patients to a dentist) during well-child exams. Nearly half are already trained and we are working to train the rest.

Help medical teams educate their patients about the importance of good oral health and its connection to overall health, with a special focus on pregnant women and diabetic patients.

Work to ensure that oral health is included in health professional training programs so that the next generation of healthcare providers learns that good health must include a healthy mouth.
Addressing oral health in primary medical care will create a healthcare system that leads to a healthier Washington.
For healthcare professionals:
Order free oral health educational materials here.