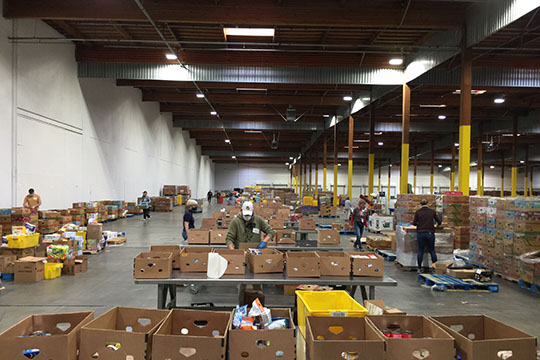 Food Lifeline Meets Growing Demand
When grocery shopping lately, you've likely noticed it's harder to find staple foods, toiletries, and baby formula. Supply shortages are frustrating for all of us, but for those who were already facing food insecurity before the pandemic, the situation is far more dire.

More than 700,000 people rely on Food Lifeline's network of 300 food banks, shelters and meal programs each year — and in times of crisis that number grows, as many of the support mechanisms people usually rely on are put on hold. Schools and community centers close, creating a gap in meals for countless families. Seniors, people with chronic conditions, and those with compromised immune systems face higher risks in public spaces, forcing many to remain at home.

Food Lifeline has shifted its operating model to meet this demand by exclusively sourcing the appropriate items needed to fill emergency food boxes. Its immediate focus is to increase the distribution of emergency food boxes to help meet the growing demand as quickly as possible. Food Lifeline has incurred a huge burden of expenses in order to source the additional food, supplies, and transportation required to meet the need. That's why Arcora Foundation and Delta Dental are proud to support the critical work of Food Lifeline with more than $50,000 to help with the growing need as unemployment numbers – and those relying on food banks – continue to rise statewide.

Watch a brief video from Food Lifeline

"The COVID-19 crisis has caused an unprecedented spike in need for food assistance in our region, while huge changes in food donations and volunteering continue to present major challenges. It will take all the generosity we have received to date and more to ensure our community receives the food it needs to thrive in the face of this crisis. We are so grateful for our friends at Delta Dental and Arcora Foundation. Their partnership is making a big difference in this effort," said Nate Pedigo, Food Lifeline's director of corporate and foundation relations.

If you are able, please consider adding your support.