Aging population
The 2016 census bureau reported "While there are more people in the millennial generation in urban areas, baby boomers form the higher peak in rural areas." What does this mean for rural oral health? Well, baby boomers are heading into their retirement years. So, fewer and fewer of them will be able to rely on their employer for oral health care coverage. Many retirees are on a fixed income. And while Medicare is there for people over 65, it doesn't cover most dental procedures or supplies.
Access to care
How many dentist's offices are near you? If you live in a major urban area, there are probably a handful within a few miles. If you live out in the country, your local dentist could be miles away.
Since the rural population is an aging one, we know that driving may not be an option for everyone who needs to see a dentist. That leaves relying public transportation, which is limited in less populated areas, according to the Rural Health Information Hub.
Health care literacy
Health literacy means a patient can effectively communicate their needs and has a clear sense of how to stay healthy. It's a major part of a person's oral health because, as the CDC says, "Health literacy can help us prevent health problems, protect our health, and better manage health problems when they arise."
Health literacy is hard for most people because of the specialized jargon used by most medical professionals and the often-confusing process of finding care and navigating coverage. But a 2009 study cited by the Rural Health Information Hub concluded that health literacy is lower in rural communities. There are a lot of different reasons for this, the study says, but things like age, income, and distance from care all play a role.
Low income
Not only do more people on average live off a fixed income in rural areas, but salaries there tend to be lower than in urban ones. Many necessary dental procedures can add up, too. According to the Delta Dental cost calculator, a simple cleaning can be as much as $250 in Washington State's rural Colville area. If you need a larger procedure like a root canal, you could pay nearly $1,625.
Medical bills are major expenses for most people. But, especially for a retired baby boomer on a fixed income, these costs can mean the difference between getting your teeth cleaned or staying home.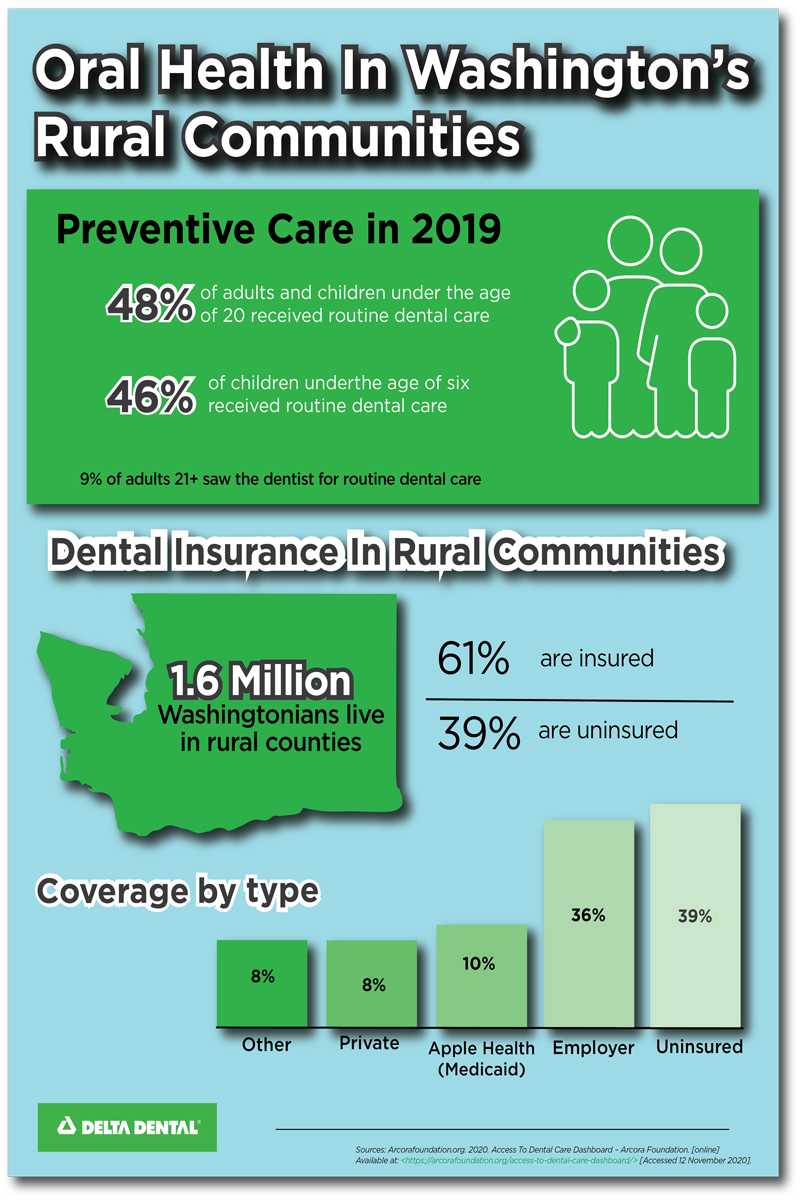 How to provide the best oral health possible in rural areas
Bringing care to the people
Since people in rural areas have a harder time getting to care, it's important to do what we can to bring the care to them. The Arcora Foundation uses the SmileMobile, a dental office on wheels, to provide oral health care to children in rural areas. Luckily, more of these kinds of initiatives are being introduced by organizations all over the country.
The Washington State Department of Health has a list of options at the bottom of this report.
Easy access oral health information
Finding accessible oral health resources is one of the main barriers to rural individuals getting the care they need. Easy-to-use directories like DentistLink are there for anyone, anywhere in the state, to find providers. Most counties and some cities will maintain their own directories through their departments of health, too.
There is no one-size-fits-all solution to rural oral health care in Washington. But bringing care to our rural communities and providing them with tools for finding existing care in their area are big steps we can take to providing healthy smiles to all Washington residents. Check out the work the Arcora Foundation is doing in Washington State and learn about the resources you have to access your healthiest smile.
You can find more info on oral health in our rural communities - or access to care across the state - by visiting the Arcora Foundation's website!
Learn More