New Year's Resolutions are notoriously hard to stick to — in fact, according to Inc.com, about 80% of people who make New Year's Resolutions give up on them by the second week in February. And many don't stick to them even that long.
A study conducted by Strava predicts that most people are likely to drop their resolutions by January 19th.
If you're like many of us, improving your overall health is likely on your New Year's to do list. But this goal can sometimes feel daunting — it can be hard to know where to start and how to turn good intentions into healthy habits.
Ready to take your smile to the next level? Shop our Individual & Family plans to find coverage that's right for you!
Get Your Quote
But first, what is oral health? And why is it so important?
Dental and oral health refers to the health of the teeth, gums and mouth that allow us to speak, chew, and smile. Oral health is an essential part of your overall health and, according to the Mayo Clinic, is linked to a whole host of conditions like heart disease, cancer, pregnancy and birth complications, pneumonia, and diabetes.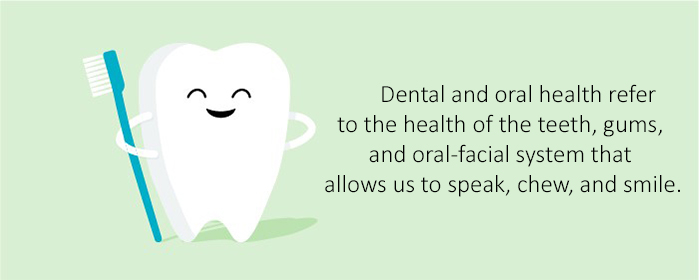 Oral health is truly one of the most important pieces to your overall health, and to help set you on the right track, here a 4 simple steps you can take to help you maintain a healthy smile and boost your well-being for the year ahead.
Find a dental insurance plan that works for you and your family
Before you even start the search for a dentist, you'll want to shop for dental insurance, if you don't already have it. Medical insurance doesn't cover most dental services and a comprehensive dental plan can help cover preventative services like cleanings and exams, as well as help save you money if you need dental care due to an accident or illness or have previously untreated issues like cavities or gingivitis.
We offer several, flexible coverage options, including plans for either yourself or you and your family! You can even compare treatment costs for in-network and out-of-network procedures so you'll never have worry about hidden expenses.
Find a dentist you like
Once you have dental coverage, it's time to see a dentist for a checkup. If you don't already have a family dentist, you're not alone — it's estimated that 100 million Americans don't go see a dentist every year. Many people think that they need to see a dentist only if they're in pain or think something is wrong, but regular dental visits can contribute to a lifetime of good oral hygiene and can help prevent many serious conditions before they progress.
With our best-in-class Find A Dentist tool, you can search for a dentist near you and find providers that are covered by your network. You can even use our "Endorsements" feature to find a dentist based on factors important to you, like "Clean office" or "Good with kids."
Understand the ins and outs of your coverage
To get the most from your coverage, activate your free MySmile® account! By putting your benefits right in the palm of your hand, you'll have access to all of your plan details, treatment history, a digital ID card, and other tools that will help you make the most out of your coverage, including our unique Cost Estimator tool so there's no billing surprises.
Establish a good at-home routine between dentist visits
To protect your oral health, it's important to practice good oral hygiene habits daily.
A rock solid routine consisting of twice-daily brushing, flossing, and rinsing with a fluoride mouthwash are all essential steps to keeping your smile in tip-top shape. Here's a quick breakdown of what your at-home routine should look like:
Floss between teeth and gums using an ADA-approved dental floss to help dislodge and remove food particles
Use an antiseptic mouthwash to rinse away any lingering food particles and to help kill cavity-causing bacteria
Brush for at least 2 minutes, two-times a day with using a soft-bristled toothbrush and an ADA-approved fluoride toothpaste
Limit sugary foods and drinks and eat a diet rich in fruits and vegetables
Avoid tobacco use
So, as we navigate the new year, remember that taking steps toward improving your oral health can help you make huge strides toward better overall health. With small, measurable steps, it won't be long before you see a healthier you in the mirror.
Ready to take your smile to the next level? Shop our Individual & Family plans to find coverage that's right for you!
Get Your Quote