We all know that brushing and flossing is important for preventing cavities, but there's another highly effective yet under-utilized preventive measure — dental sealants.
These protective coatings, painted on the chewing surface of the molars, work by filling the deep grooves where bacteria can get stuck, grow, and cause decay. Particularly in children and young adults, sealing off these surfaces has shown to prevent cavities in the back teeth by nearly 80% for several years.
And there are even more benefits beyond cavity prevention, including safety and cost efficiency. Keep reading to find out four reasons to consider dental sealants for your child.
Create or sign into your MySmile® account and use our MySmile Cost Estimator® to get an estimate for dental sealants based on your child's specific benefits and dentist.
Sign In
Dental Sealants Reduce the Risk of Cavities
Due to their deep grooves and harder-to-clean location in the mouth, molars are among the teeth that are most at-risk for trapping bacteria and developing cavities. In fact, according to the Centers for Disease Control (CDC), 90% of cavities occur in these back teeth.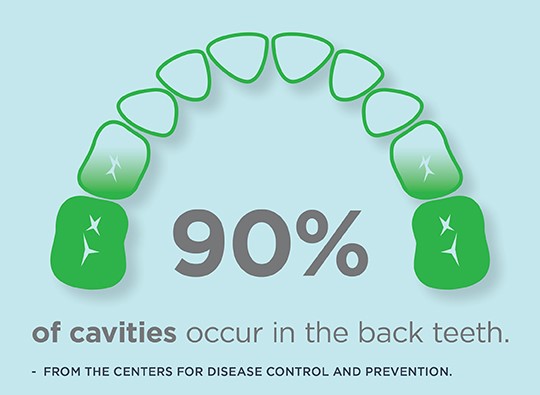 However, studies have shown that sealants on the molars can prevent roughly 80% of cavities during the first two years and continue to protect against 50% of cavities for up to four years.
Unfortunately, not even half of children between the ages of 6 and 11 have sealants, and those who don't have almost 3x as many cavities in their first molars as children who do. These cavities, if left untreated, can lead to pain, infection, and problems with eating, speaking, and tooth development.
What's more, a report published in the Journal of the American Dental Association found that adults between the ages of 20 and 34 have more untreated cavities in their back teeth than any other age group. The placement of sealants earlier in life could lead to a significant drop in these numbers as children grow into adults.
Dental Sealants Save Money
By preventing cavities in children, sealants reduce the need for costly dental treatments, both now and in the future.
As reported by the CDC, programs that deliver sealants to kids who are at high risk for decay "save $11.70 per sealed tooth over four years." Providing sealants to nearly 7 million children can prevent more than 3 million cavities and save up to $300 million in treatment costs.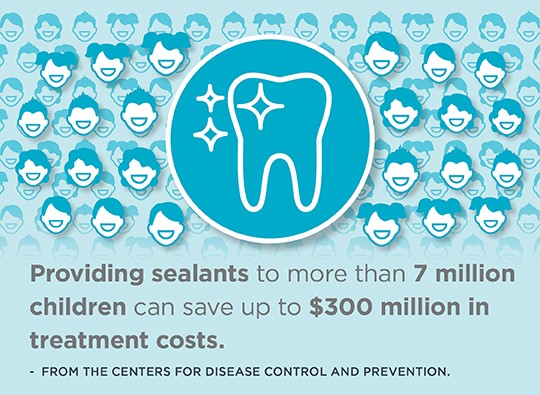 These cost-saving benefits can only get greater over time when you consider the money and maintenance required for teeth that need repair. As New York dental hygienist Ashley Grill explains in an interview with Healthline, "once a tooth is drilled and filled, restored, or extracted, the natural structure is compromised. There is a lifetime cost associated with maintaining the restored tooth or implant."
Dental Sealants are Safe
One concern from parents may be the safety of sealants, but dental professionals agree that they're entirely safe and effective and have been for decades. "I've never observed an adverse reaction to dental sealants, and none have been reported in the literature," Grill tells Healthline.
Dental Sealants are Quick and Painless
Of all the dental procedures, the placement of sealants is among the quickest, most painless, and most conservative.
The tooth is first cleaned and then the sealant is painted onto the chewing surface of the molar. A dentist, hygienist or dental assistant will shine a light on the tooth to help bond and harden the sealant. From start to finish, the process should take no more than a few minutes, yet can provide years of prevention.
If your child doesn't yet have sealants, speak to your dentist about your options. They can reduce your child's risk of cavities for years to come and ensure a healthier and happier smile for life.
Create or sign into your MySmile® account and use our MySmile Cost Estimator® to get an estimate for dental sealants based on your child's specific benefits and dentist.
Sign In
*If you're covered by one of our Individual & FamilySM plans, log in to your Delta Dental Covers Me account to get an estimate based on your specific plan.