Did you know that tooth decay is the most common chronic childhood disease in the United States? (Yes, you read that correctly: the most common.) Left untreated, cavities can cause a range of oral health issues for your child, from pain and infection to problems with eating, speaking, and even tooth development.
The good news is that cavities are largely preventable, thanks in large part to protective coatings known as dental sealants. Most-commonly painted on the chewing surface of the molars, sealants work by filling the deep grooves where bacteria can accumulate and cause decay. By sealing off these hard-to-clean areas, sealants have been shown to reduce the risk of cavities in kids by almost 80%.*
And yet they're still highly underutilized.

*According to a report published by The American Dental Association.
Now, we've talked about why sealants are important and when kids should get them, but what about after they've been applied? Here's what you need to know about how long sealants last, if they need to be replaced, and how to maximize their lifespan and efficiency.
Create or sign into your MySmile® account and use our MySmile Cost Estimator® to get an estimate for dental sealants based on your child's specific benefits and dentist.
Sign In
How Long Do Sealants Last?
According to the Centers for Disease Control (CDC), sealants have been shown to work for around 9 years after initial placement.
However, it's important to note that sealants are the most effective within the first few years as they naturally wear away over time. The CDC explains that sealants can protect against 80% of cavities for the first two years, and then 50% for up to four years.
Do Sealants Need to Be Replaced?
It's recommended that children get two rounds of sealants: on their first set of permanent molars around the age of 6, and again on their second (usually between the ages of 11 and 14).
There are instances where sealants from these placements might fall out or erode more quickly than usual. Your dentist will check your children's sealants during their regular exams and determine if any need to be reapplied. If they do, it's a simple and painless process in which the sealant is repainted and allowed to dry for just a few minutes.
How to Care for Your Child's Sealants
Due to general wear and tear from chewing and grinding, there's no way to prevent sealants from breaking down over time. However, there are ways to prolong their lifespan.
Foods that are especially hard, sticky, or chewy can cause unnecessary pressure or pull at the sealants. For this reason, children should limit their consumption of things such as:
Hard candy
Gummy candy
Toffee
Caramel
Acidic food and drinks have also been shown to contribute to faster erosion. While children aren't expected to avoid these completely, it's best to limit the intake of acidic drinks such as soda and juice, as well as things like jarred or canned sauces, cereals, syrups, and fried foods.
Children who clench or grind their teeth are also at a higher risk of wearing down their sealants quicker. If your child struggles with this, speak to your dentist about the possibility of a night guard. Certain relaxing activities like walking, yoga, or massage can also help reduce stress and anxiety, which are common contributors to clenching and grinding.
Dental Sealants in Washington
The use of sealants in Washington has been growing in recent years and is far above the national average. A recent Smile Survey conducted by the Washington State Department of Health found that 54% of 3rd graders had dental sealants, compared to 32% nationwide.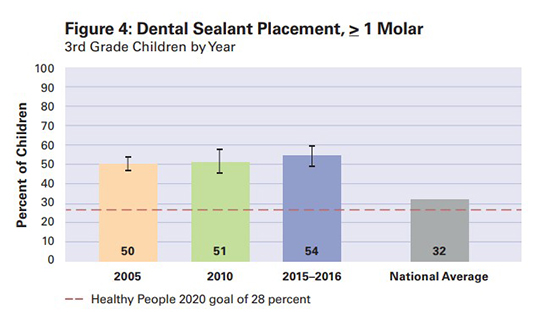 But these numbers still aren't as high as we'd like them to be, especially given that most of our employer-sponsored plans cover sealants at 100%, with little to no out-of-pocket cost. If your child's the right age but hasn't yet gotten sealants, set them up for oral health success now and in the future by scheduling a visit with your dentist.
Create or sign into your MySmile® account and use our MySmile Cost Estimator® to get an estimate for dental sealants based on your child's specific benefits and dentist.
Sign In
*If you're curious about sealants or are wondering if they are the right choice for your child, please see your dentist as they are the best resource for information.