Originally published September 2020. Updated August 2022.
Gearing up for the new school year means getting back to an everyday routine–including everyday habits like brushing, flossing, and taking care of your dental health.
While it might seem like a small part of your everyday life, healthy oral hygiene habits can have a big impact on your overall health, too. After all, what's happening with our teeth and gums is often an indicator of what's going on with the rest of your body. Symptoms like cavities, bad breath, gum disease, or oral lesions can be signs of bigger oral health issues such as poor nutrition, cancer, diabetes, or heart disease.
What's more, the effects of poor oral care—from bad breath to tooth loss to oral cancer—can have a significant impact on a person's well-being: physically, mentally and emotionally.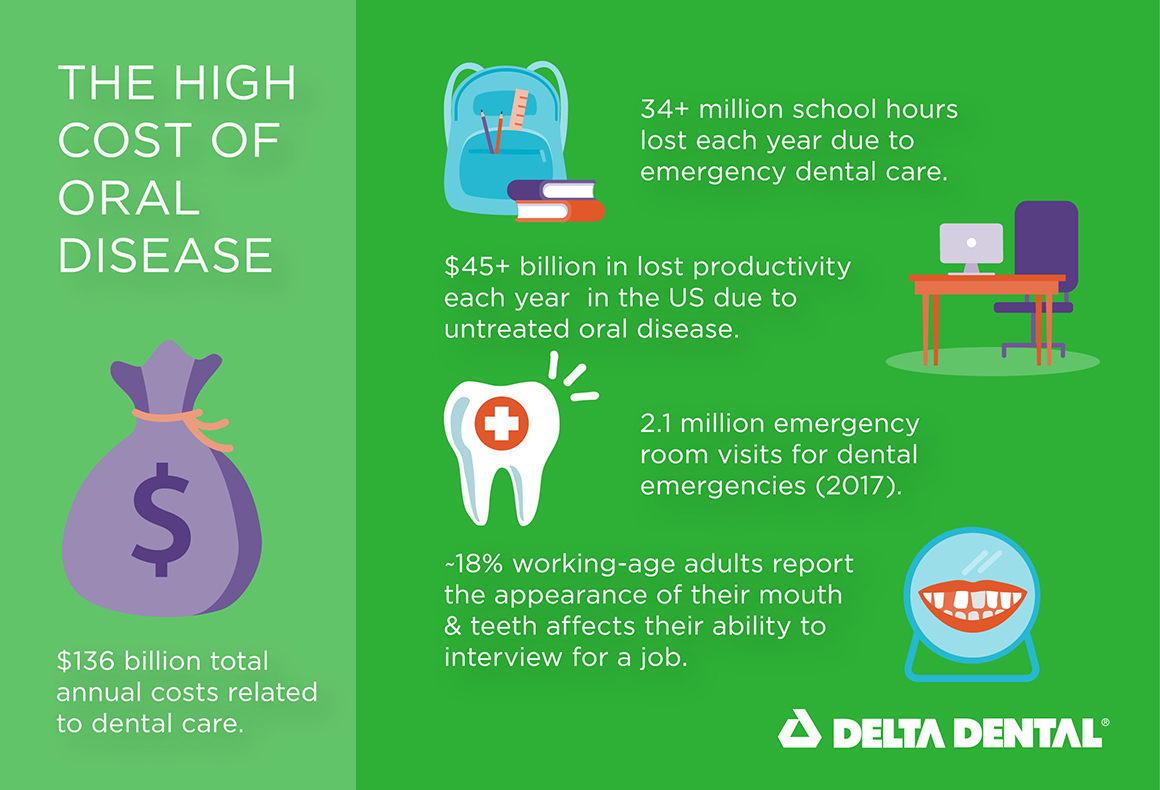 With an estimated 3.5 billion people around the world affected by an oral health issue, it's more important than ever to understand why dental health is so important, what the risk factors are for poor oral health, and what you can do to prevent extensive treatments down the road.
Ready to take care of your smile AND yourself? Sign up for MySmile® to check your benefits!
Activate Your Account
Why is Oral Health So Important?
Maintaining proper dental hygiene helps ensure a lifetime of healthy teeth and gums. This limits your risk for developing painful oral health issues such as cavities, periodontal disease, and even oral cancer–all of which will require dental treatment down the road.
Beyond the need for dental procedures, these conditions can also negatively affect other aspects of a person's life. Poor oral care can cause a wide variety of problems that can compound on eachother, including:
Cavities and gum disease
Bad breath, tooth loss, and gum recession
Social and psychological struggles
Poor self-esteem
Decreased appetite or inability to focus because of tooth pain.
Issues at work or school that impact overall wellbeing.
Financial Impact of Poor Oral Health
While many dental benefit plans cover 100% of preventative visits to in-network providers, costs can add up if you need dental treatments such as crowns, extractions, or root canals. In fact, according to the World Health Organization, dental costs amount to an average of 20% of a person's out-of-pocket health expenses in places like the United States.
But poor oral health can have financial impacts beyond just the cost of the dental treatments themselves. According to the CDC, over 34 million school hours are lost each year because of unplanned (emergency) dental care, on average. Over $45 billion is lost in productivity in the United States each year because of untreated oral disease.
The good news is that by simply taking advantage of preventative visits early on, you can not only lower these costs and avoid expensive dental treatments, but also set yourself for a better overall quality of life.
Common Risk Factors for Poor Oral Health
To ensure the best possible dental health for you and your family, it's important to understand the common risk factors that lead to poor oral health. Some common risk factors include:
Improper brushing and flossing
An unbalanced diet that's low in vitamin D and calcium
High sugar consumption
Excessive alcohol consumption
Tobacco use
Irregular trips to the dentist
Diabetes, which has been linked to the progression of periodontal disease
Obesity
Osteoporosis
Unfortunately, the risk for poor oral health is also significantly higher among low-income and historically disadvantaged populations who lack the financial resources and access to quality dental care. Those who live in areas without fluoride in the water are also at a higher risk for tooth decay. The World Health Organization is currently working to identify strategies to address these inequities.
Tips for Improving Your Oral Health
Most oral health conditions are preventable and can be easily treated if addressed early. You can also take steps to improve your oral hygiene by making sure you follow a few simple tips:
Brush your teeth for a full two minutes twice a day with an ADA-accepted fluoride toothpaste. The American Dental Association recommends using a soft-bristled toothbrush and replacing it every three to four months.
Clean between your teeth once a day with dental floss or a non-string alternative such as a water flosser. It's best to do this before bed to help eliminate the bacteria that's built up from eating and drinking during the day.
Eat a balanced diet that's high in fruits, veggies, lean proteins, and whole grains.
Limit processed foods and sugary drinks and snacks.
Reduce alcohol consumption and eliminate the use of tobacco.
Visit your dentist once every six months.
If your community lacks fluoride in the water, talk to your dentist about the possibility of fluoride supplements.
By following these guidelines, you're not just protecting your smile but the overall health and well-being for yourself and your family for many years to come.
Activate Your Account